After our friends had gone home on
Monday
, we also decided it was high time to try out the "Drawing Lessons For Beginners" with Donna Hugh DVD Brown-eyed girl got for Christmas this past year. In lesson 1, we drew bell peppers. Ms. Hugh emphasized carefully seeing the object and if applicable, feeling and holding the object to get a better understanding of the object. She also talked a little about watercolor pencils and we used those to color in our bell peppers. When we were finished, Blue-eyed boy said his looked like poop and Brown-eyed girl said she still wanted to draw her bell peppers her
own
way. I've decided this DVD is
not beginner enough
for me. I need to go
all the way back
to how to draw a line.
Blue-eyed boy's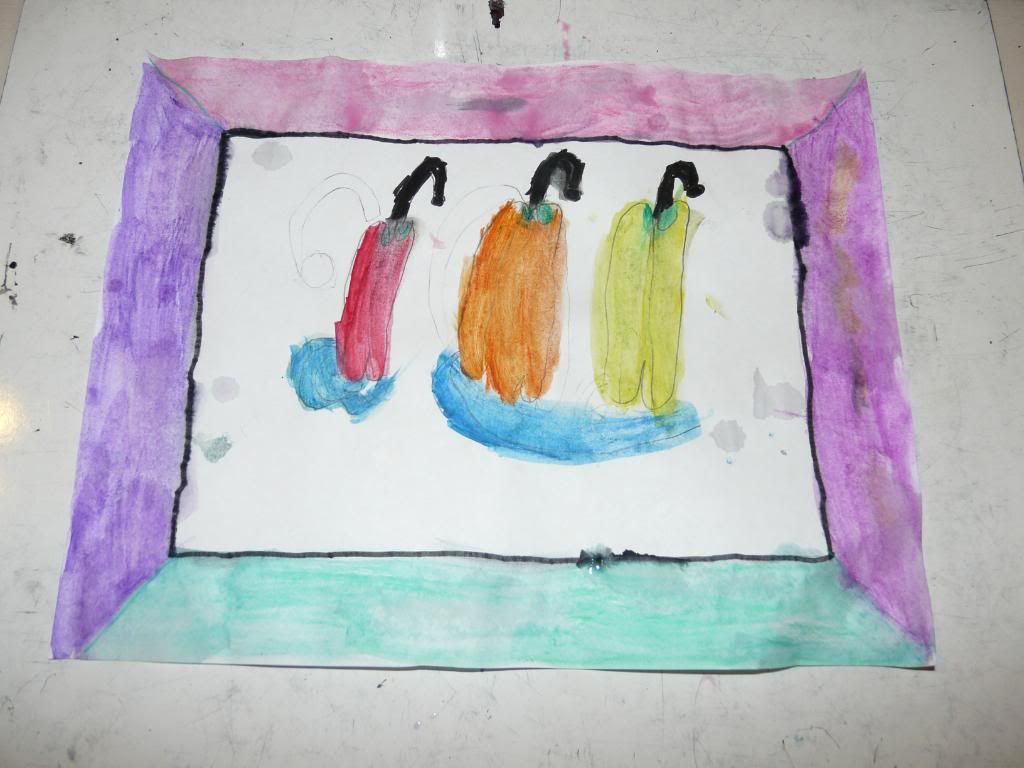 Brown-eyed girl's
Mine
On Tuesday, we learned about shading in lesson 2. Um, let me rephrase that...we watched her shade while we learned very little about it. What were we drawing today? Our shoes. Brown-eyed girl chose a flip flop, Blue-eyed boy chose a sandal, and I chose a tennis shoe. After we were finished with our pictures, she did go over the different types of shading pencils available and the best way to sharpen them. Arg! This information would have been very helpful before we started shading our pictures, but after was a little too late. Oh well - the kids didn't really care for the shading anyway. Actually, they had their pictures drawn already by the time she was only about 1/4 way through with hers. They think she takes too long. They wanted to use the watercolors again instead of shading pencils...and they did. I tried my hand at the shoe and shading though. I think I liked my picture better before the shading. What do you think?
Wednesday
, we took a break from art and went to have lunch with Granny and G-Maw. We spent the rest of the afternoon hanging out with them :) G-Maw got the kids a really neat game and they played with it for a looonngg time that day.
On
Thursday
, I had to babysit the neighbor boys all day, so art lesson #3 took a back seat until that evening. Big J got a chance to join us for this lesson. He thought she took too long too. And again - this DVD is not so much about
learning from her,
but rather
watching her draw
. There is just not enough explanation and 'how to' to go along with these lessons. Still, we tried our hand at drawing conch shells. Jason chose his own (as did the kids) from their personal collection and I used the shell Ms. Hugh used. She completed the drawing using colored pencils and I tried to copy what she did. Big J and the kids did their own thing when it came to the color.
Brown-eyed girl's
Blue-eyed boy's
Big J - He got so bored, he decided to draw Larry Boy, a cat, Yoda, and a pictures of Brown-eyed girl.
Mine
Today is
Friday
and the day of the 4th and final art lesson. As you can probably tell, we have not been thrilled with this DVD. Although Ms. Hugh is a wonderul artist and very talented, this DVD did not have enough explanation on how exactly to do the different techniques and how to properly use the different tools...at least not for me anyway. The kids thought it was rather dry and boring and consistently lost interest about 5 minutes into each lesson. However, Brown-eyed Girl and I hung in there and saw it through to the end. Blue-eyed Boy and Big J had other plans. In this lesson, we created our pictures using watercolors and went back with felt tip marker/pens to highlight and outline certain areas.
Brown-eyed Girl's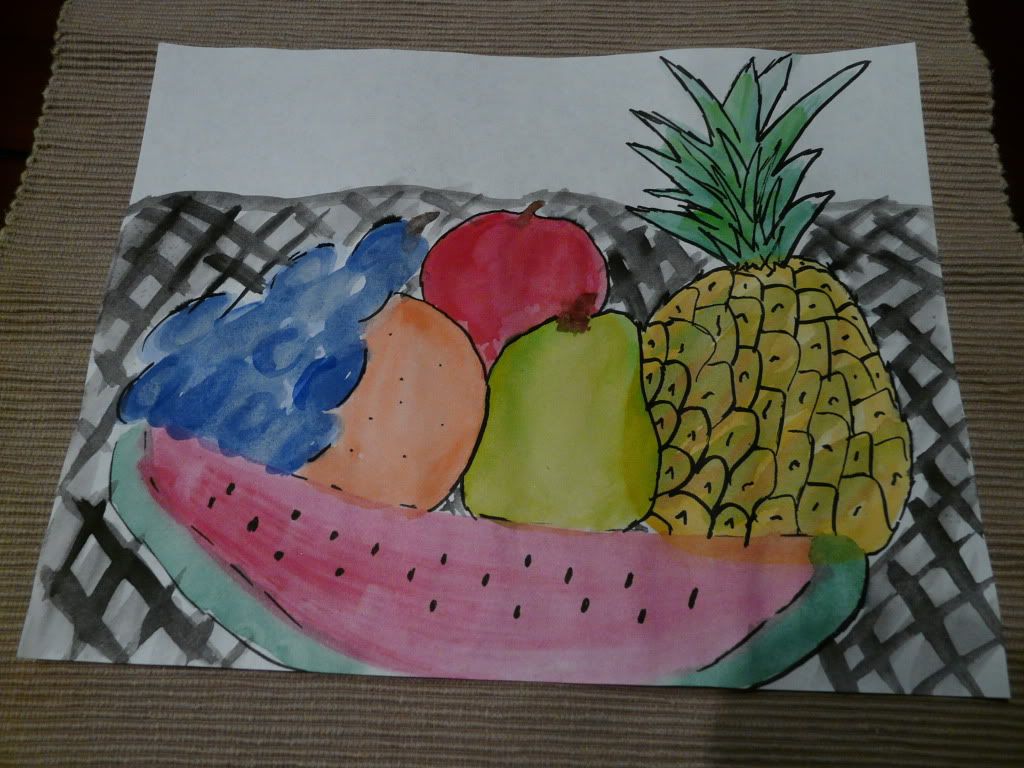 Mine
Does anyone out there know of any good beginner art DVD's? Aleeya really loves to draw and I'd like to get her something a little more kid friendly to try out.